Up Coming Events:
April 24th Cork Wallet Class 10-?
Spring Shop Hop April 29, 30 and May 1st
May 29th-5th Saturday
IN OUR NEW CLASSROOM!
Cork Wallet Class

April 24th 10am: Please welcome back Naomi to BLQ for a wonderful opportunity to learn a new project. Working with cork and making a long lasting, functional wallet. Learn from Naomi Stewart who has made hundreds of cork wallets. She has many tips and tricks to share with us. For attending the class, you will also receive cutting chart to make the wallet with different sizes of frames.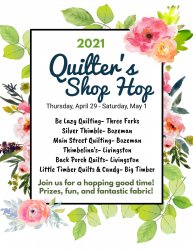 Join us for a hopping good time. Register for a chance to win a gift basket valued over $75 (2 at each shop) and a free goodie from each shop, don't forget to get your passports stamped at each location for your chance to win a $25 gift certificate from 6 of the participating shops.
May 29th is the next 5th Saturday
2021 5th Saturdays:
July 31st
October 30th


Our New Classroom is open! Retreat will be opening soon.